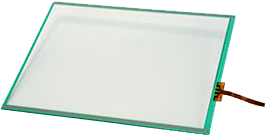 Superior quality 4-wire resistive touch panels
Available in light input force types (min. 0.02N) or standard force types
Light input force with dual input gesture supports PCAP comparable user experience
Pinch, Zoom, Rotate, Swipe or Flick action detection by the controller
Excellent specification and high quality panels for a wide range of applications
Pen/finger input support
80% transparency typical
RoHS compliant
Touch panels are made of glass, so care must be taken in handling them. Do not stress, pile, bend, lift by the cable or put any stress on the film, for example moving by film face vacuum. In order to clean wring dry a cloth which has been emersed in a natural detergent. DO NOT use any organic solvent, acid or alkali solution. Watch the edge of the panel when cleaning, again for safety reasons.
Rated voltage DC: 5V
Switch bounce (chattering): 20ms maximum
Insulation resistance: 10MΩ minimum
Operating temperature: -5°C to 60°C
Storage temperature: -30°C to 70°C
Operating humidity: 20% to 90%
Storage humidity: 10% to 90% RH