7" TFT Rockchip PX30 Embedded Display | JXRA800480T013IHC09
Enquire About this Product
Please fill in the form below for more detail, pricing, sample, customisation options and full datasheet, and one of our experts members will be in touch with you shortly.

Rockchip PX30 comes with a high performance Quad-core ARM Cortex-A35 operates at 1.6GHz and plenty of connectivity. The built-in GPU supports OpenGL, Vulkan. Special 2D hardware engine will maximize display performance and provide very smoothly operation. Compatible with popular OS and Linux distributions tools like Debian Linux, Android, Ubuntu, Yocto, Buildroot.
Additional information
| | |
| --- | --- |
| Size | 7" |
| Resolution | 800*480 |
| Brightness | 850 cd/m2 |
| Viewing Angles | 50/70/70/70, 6H |
| Touch | Projected Capacitive Touch |
| CPU | Rockchip PX30 Quad-core ARM-A35 @ 1.6GHz |
| RAM | 2GB SDRAM |
| Storage | 8GB eMMC Flash |
| Connectivity | Analog audio input/output, Bluetooth, Ethernet, GPIO, I2C, LVDS, Micro-SD, MIPI-CSI, MIPI-DSI, Parallel RGB, SPI, UART, USB, Wi-Fi |
Need a bespoke solution?
If our standard products doesn't fit your application needs, our local engineers can work with you to customise the display based on your project requirements:
Customised Cover Glass: Is the standard cover glass not suitable for your application? We provide the flexibility to change the colour, shape, and size of the cover glass to align with your product's design and brand identity.
Personalised Branding: Leave a lasting impression with your customers. We can imprint logos, icons, or any graphics directly onto the cover glass, making this solution truly yours and different from your competitors.
Brightness Adjustment: Ensure visibility in all conditions. Our displays can be fine-tuned to the perfect brightness level, whether your application is indoors, outdoors, or somewhere in between.
Enhanced Durability: Every project is unique, and so are the demands it places on display technology. Adjust the thickness of the cover lens to meet specific durability requirements, ensuring your display stands the test of time.
Perfect Viewing Experience: Tailor the viewing angle to suit your product and application. Our customisable displays ensure that information is easily accessible from the angles that matter most for your application.
Pinout Customisation: We can adapt the pinout to seamlessly fit into your existing hardware, saving you time and resources during implementation.
Customisable Gasket Assembly: Your display deserves robust environmental protection. Customize the gasket assembly to shield against dust, moisture, and other environmental factors, ensuring long-term reliability.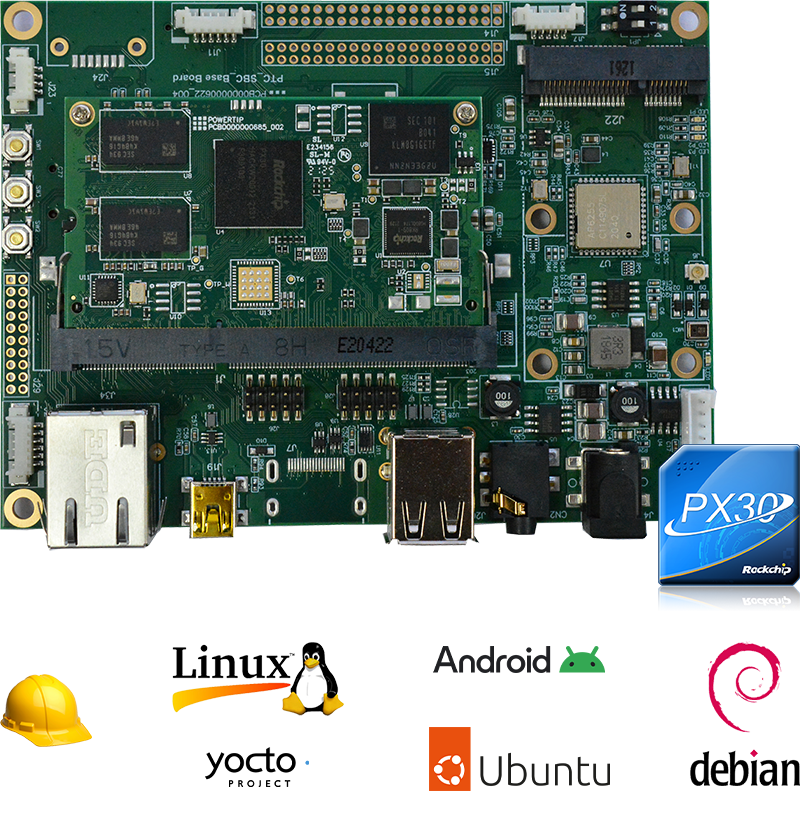 Our range of MPU embedded systems that utilise the Rockchip PX30 comes with high performance Quad-core ARM Cortex-A35 operates at 1.6GHz and plenty of connectivity. The built-in GPU supports OpenGL, Vulkan. Special 2D/3D hardware engine will maximize display performance and provide very smoothly operation. These units are compatible with popular OS like Debian Linux, Android, Ubuntu, Yocto, Buildroot. Prebuild Debian Linux 9 and Android 8 images are available.
Comprehensive hardware interface to meet your project customisation need: 
Micro-SD x 1

I

2

C x 3

SPI x 1

UART x 6 (one for debug)

MIPI-DSI x 1

MIPI-CSI x 1

LVDS x 1

24-bit Parallel RGB x 1

USB 2.0 OTG x 1

USB 2.0 Host x 2

RS232 x 1 (supports RTS/CTS)

100/10 Base-T Ethernet x 1

Wi-Fi (a/b/g/n/ac)

Bluetooth 4.2

GPIO
High brightness TFT LCD panel 
The LCD panel boasts a remarkable surface luminance of 850cd/m2, making it exceptionally bright even outdoor use. Its wide viewing angles enable users to interact with the display naturally and intuitively, regardless of their position."
Industrial Touch Screen
It is able to operate correctly in more demanding, harsh conditions (i.e. disturbing electromagnetic fields around causing interferences with panel controller, water droplets present in the surrounding area also on panel glass), and react properly when touched by hands in gloves. It can be tuned at the factory, detect touch through thicker glass layers than consumer panels. 
Optical / Air Bonding
Our standard products come with air bonding. Optional upgrade to optical bonding for enhancing the readability under direct sunlight and reducing condensation in inner surface.
Frequently Asked Questions
Hacker board or Raspberry Pi-like module are very cheap and powerful, why should I select MPU embedded display ?
Our embedded solutions are designed and engineered for commercial and industrial applications use. They are fully customizable based on your project requirements.
 

Embedded Solution

Hacker board/PI-like module

Longevity and End of Life

- Proven track record for longevity support to customer

- No Longevity guarantees. 

- May EOL or Global shortage suddenly

Software support

- Mature product and professional S/W support

- Updated by community contributors. 

Local support

- Local UK engineer support

- Community support 

- Third-party charge support

Flexibility

- System on module flexibility

- Provide customization options

- limited flexibility and standard products are the mainstream

Temperature grades

- Commercial: -0 to 70 °C

- Extended: -20 to 70 °C

- Pi 4: 0 to 50

°C

Pin to pin compatibility 

- MPU series offer pin-to-pin compatibility for SOM upgrade

- No pin-to-pin option
What LCD screen sizes and resolutions does IHL's MPU embedded display offer?
MPU embedded display range covers 5" to 10.1" with resolution up to 1280x800. We can customize the LCD based on your requirements.
What is the brightness of the LCD that IHL's MPU embedded display offers?
All standard products offer 800+ nits. We can customize the LCD brightness based on your requirements.
What is the maximum display resolution that MPU embedded display can support?
[/db_pb_accordion]
What O/S does the MPU embedded display support?
Support Android, Ubuntu, Debian Linux, Yocto. Depending on the product, some free pre-built images are available.
Any RAM or Flash ROM options for MPU embedded display?
MPU embedded display modules come with 2G RAM and 8GB eMMC Flash. If it does not meet your application requirements, we can customize the module based on your RAM/Flash ROM requirements.
What kind of boot options does the MPU embedded display support?
You can boot from the on-board EMMC flash ROM or microSD card.
If I want to start the application development on MPU display module, what tools or S/W do I need?
You need below tools and S/W:
One 12V power supply 

One PC or notebook with USB connection and Putty installed (or equivalent SSH/serial shell). 

One USB-serial adaptor/cable
Connect the USB-serial adaptor/cable to the USB port of your PC and the debug port (J25) of the display module. Start the serial shell (Putty or equivalent) and power up the display module, you will see the debug message. After the bootup procedure is completed, you can start your OS configuration and application development.
[/db_pb_accordion]
Why Choose Inelco Hunter?
At Inelco Hunter, we have formed strategic partnerships with leading manufacturers, allowing us to offer a comprehensive range of quality products. When buying from us you benefit from an integrated approach to your design, project and production requirements
Our range of products include:
LCD, TFT, OLED & Custom Solutions
Touch Screen Panels
Panel PC & Embedded Solutions
Interconnect Solutions
Fans, Blowers & HL Assemblies
Thermal Printers
ESD & Circuit Protection
Relays & Capacitors
Our services combine an innovative system with rational analysis to understand product design, customer expectations and target market.
Our services include:
Project Management
Custom-Designed Solutions
Design and Consultancy
Assembly and Test
2D and 3D CAD Drawing Service
Logistics Value-Add
Fan Assembly Services
Anti-Static Survey & Assessment
Obsolescence Service