Press Release: June 2018
Unique 45kW High Surge Protection Devices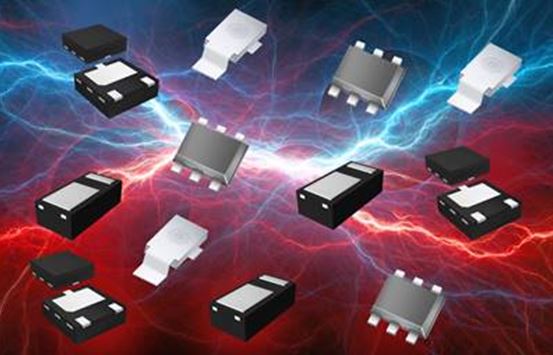 Inelco Hunter has announced the availability of the ProTek Devices range of High Surge Protection devices for power supplies and AC/DC power lines that require high surge current/lightning protection. ProTek believe that no other manufacturer offers a 45kW device, which is an extension of Protek's 15kW and 30kW families. In addition, the entire range of 15kW, 30kW and 45kW devices are SMT, while competitors typically offer through-hole axial leaded packages.
The ProTek protection devices are compliant with IEC 61000-4-2 (ESD), IEC 61000-4-4 (EFT), IEC 61000-4-5 (Surge) and DO160 Section 22 (Lightning) standards. A range of voltage options in unidirectional and bidirectional configurations are offered.
Available in a SMT package configuration over traditional axial leaded devices, they are an excellent protection solution where board space is at a premium. Markets will include industrial / military / aerospace and the devices can be used in any application needing surge or lightning protection with robust long life performance.
David Bushnell, managing director of Inelco Hunter commented "Power surges can wreak havoc on equipment, causing catastrophic failures, interrupting processes and causing equipment to prematurely age, leading to field failure. By deploying protection devices, manufacturers can mitigate potential problems and keep their equipment and the related processes up and running reliably without disruption or damage due to surge-related events. Protek's unique range of 45kW surge protection devices helps reduce costly downtime and protects sensitive electronic equipment against the damaging effects of transients".
Inelco Hunter can supply the complete ProTek Devices product portfolio, including transient voltage suppressor arrays, avalanche breakdown diodes, steering diode TVS arrays and electronics SMD chip fuses. Uses include lightning; electrostatic discharge; nuclear electromagnetic pulses; inductive switching; and electromagnetic interference and radio frequency interference.
In addition, Inelco Hunter can supply complementary components such as connectors, relays, displays, fans and thermal printers, making them a comprehensive electronic component supplier. Inelco Hunter's wide product range is backed by an in-house engineering support team, offering design, consultancy and project management services.
For more information Contact Us.