Press Release: July 2018
Development Time Slashed for Cortex-M4 Applications using Displays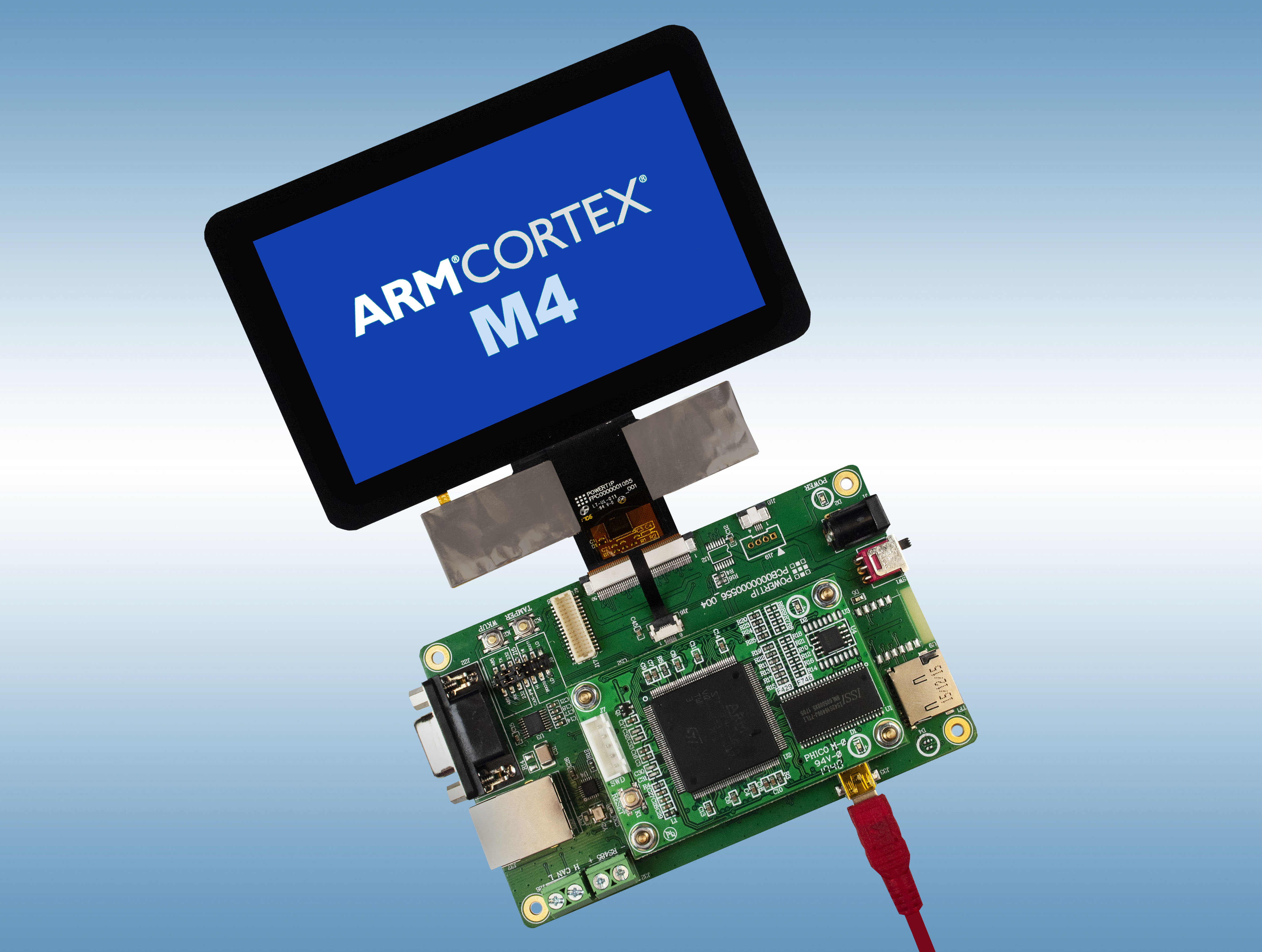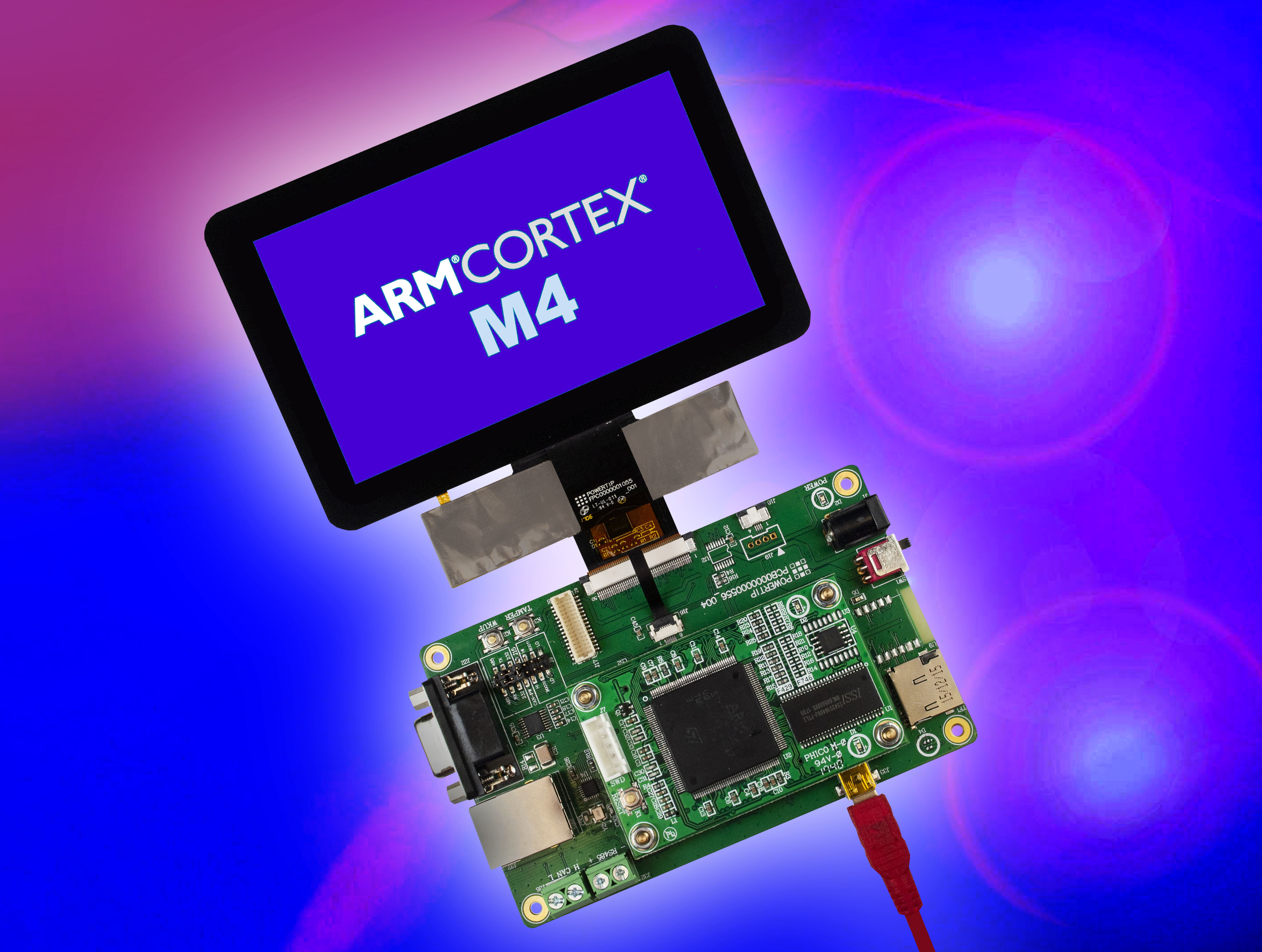 Inelco Hunter has announced the availability of a Powertip Development Board for Cortex-M4 processor applications where a display screen interface is required. The board is tailor-made for Cortex-M4 STM32F429IGT6 processors and can provide huge cost-savings by slashing development time.
The Development Board features a built-in 22pin GPIO interface which is compatible with Powertip 4 in 1 Series TFT 3.5", 4.3", 5" and 7" Displays. The board also supports any display with a resolution of up to RGB 1024×768 using the same industry-standard GPIO interface. Simply plug-in the display, connect the power and the development engineer can start development work straight away.
There are twelve Powertip 4 in 1 Series Displays that are compatible with the Development Board, some with CTP/RTP Touch options. Options include TFT only; TFT plus resistive touch panel; TFT plus OGS PCAP; TFT plus GG PCAP; and TFT plus borderless GG PCAP. Capacitive touch panels have a multi-touch ability and are extremely durable in most environments. They can be operated using with a finger touch or a stylus and allow for Zoom, Rotate, Flick and Swipe actions. Resistive Touch Panels are common in medical, media, domestic, leisure and workspace applications.
The potential uses of Cortex-M4 processors in conjunction with displays are enormous and encompass a very wide range of applications eg industrial automation, machine tool control systems, medical devices, home technology, IoT products, communication systems, payment terminals, etc.
David Bushnell, Managing Director of Inelco Hunter said, "The market for applications using processors based around ARM Cortex cores is continuing to grow at a pace. This Powertip Development Board will potentially boost company profits with a drastic reduction in development time combined with a much shorter time-to-market. If you're looking to develop products using this technology why not talk to our engineering team at Inelco Hunter".
Specifications for the Development Board include a 180MHz Cortex-M4 STM32F429IGT6 processor; 8MB SDRAM; 16MB SPI Flash; and 1x Micro SD (under 32G). Interfaces include: 1x USB2.0 Host; 1x RS485 or RS232; CAN BUS 2.0B Active; and Ethernet IEEE 1588v2. The power input is DC 7V ~ 36V. EMI/EMS protection is provided and V-com, B/L drivers are included as standard.
In addition, Inelco Hunter can supply complementary components such as surge protection devices, connectors, relays, displays, fans and thermal printers, making them a comprehensive electronic component supplier. Inelco Hunter's wide product range is backed by an in-house engineering support team, offering design, consultancy and project management services.
For more information Contact Us.