Press Release: March 2018
Connector and Cable Solutions for EV Applications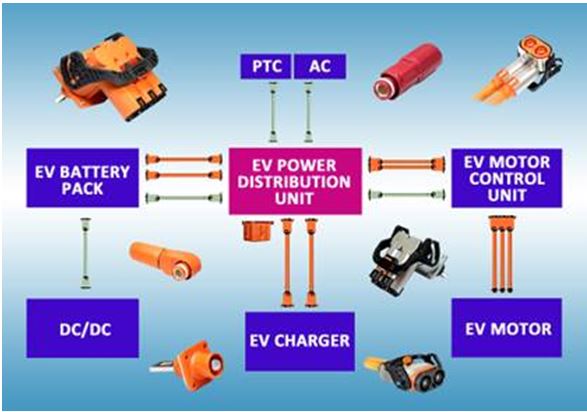 Inelco Hunter has announced the availability of Amphenol's complete range of EV connectors and cables, designed to meet Electric Vehicle applications, from charging to motor control and power distribution. The Amphenol EV range includes power connectors, signal connectors, rugged cables and complete cable harnesses. The Electric Vehicle market is developing at a very rapid rate (a worldwide increase of 58% from 2016 to 2017), and Amphenol has invested heavily in the development of rugged, high-quality connector and cable solutions, powered by their own patented RADSOK® Technology.
RADSOK® Technology uses a flat stamped grid, twisted into a hyperbolic geometry to provide highly-reliable socket contact with unique characteristics. The key benefits are higher amperages within smaller envelopes combined with higher current ratings. The hyperbolic geometry also provides a highly-reliable connection with a low insertion force. The end-result is a rugged connector providing high durability and long life.
Amphenol's electric vehicle products come as IP2X touch-proof as standard. They are sealed to IP67 / IP6K9K specifications and are capable of taking shielded and or unshielded cables. An added benefit is the option of "HVIL" high voltage interlock safety contacts that are "last-to-mate" and "first-to-break" on connection/disconnection. Cable sizes vary between 2.5mm² and 150mm² with operating voltages up to 1,500V and 1,200A continuous at 85°C.
David Bushnell, Managing Director of Inelco Hunter commented, "EV vehicle owners will require 100% reliability and Amphenol products have always offered exceptionally-high reliability. With their RADSOK® Technology they aim to meet the needs of the EV market with dependable, rugged durability".
Lee Griffiths, Amphenol Industrial Regional Sales Manager for the UK and Ireland supported David Bushnell's comment in saying "Amphenol is seeing unprecedented growth in the electric vehicle market sector. EV represents an extremely exciting emerging market for Amphenol Industrial and we are very pleased to have the technology to support a wide variety of applications, from charging and battery systems, all the way through to PDU (power distribution unit) and MCU (motor control Unit) systems. Amphenol really does have the largest range of any connector supplier for this emerging market".
Inelco Hunter as a fully-franchised distributor can supply the complete Amphenol industrial product portfolio, from the newer EV ranges just coming onto the market to the more traditional well-known ranges, such as Ecomate, Heavy Mate and C091 M16 product series.
In addition, Inelco Hunter can supply complementary EV components such as displays for charging systems and ticketing systems, making them a comprehensive "EV Total Solution" supplier.
 For more information Contact Us.